One of the things I have focused a lot on in my preparations for my thru-hike of the PCT in 2018 is the gear I will bring along. In truth gear is probably the thing that I have spent the most time (and money) on for my thru-hike, I wager that might be the case for most thru-hikers. This is not entirely without reason as the gear should hopefully help keep me safe and dry.
I have a Lighterpack page that details the gear that I will bring including the weight of all the gear. Below I will try and explain my reasoning behind my gear choices, while writing this post I have noticed that I have gone in to a lot of detail so I apologize for the overly long post. Overall I have tried to go fairly lightweight with the gear I bring and hopefully not bring any unnecessary gear.
Backpack
The backpack used on a hike is obviously one of the more important gear pieces as I will be wearing the pack for days on end and carry all my gear, food and water in it. Before planning the the thru-hike I already owned a backpack I could have used for the hike, the ULA Circuit which is actually a very popular backpack for thru-hiking.
As I was making my gear list with a focus on being as ultralight as possible I quickly noticed that the ULA Circuit was taking up a huge chunk of my overall weight. Because of this I decided to research alternative backpacks that were lighter. I especially decided to look in to whether I should go with a framed or a frameless backpack. Most thru-hikers tend to go with framed backpacks as they are generally more comfortable if you are carrying a lot of weight. I quickly decided that I would try and go with a frameless backpack as I expect the time spent carrying a lot of weight, usually in water, would be fairly limited.
The backpack I ended up going with was a custom made KS-50 backpack from KS Ultralight Gear. I chose the following options for the backpack:
X-Pac fabric
Strong mesh front pocket
One Ice Axe Loop
Load lifter straps: Lineloc + Cord
Frame set
Custom front pocket design
4 Loops at bottom of the pack
Y shaped top strap
Lycra mesh pockets on the shoulder straps
I have used the backpack on a few training hikes and so far I am very impressed with how it carries. My only worry with the backpack is the durability of the fabric and 13mm webbing plastic gear.
One other backpack I did consider and which is a very popular choice is the MLD Prophet. I ended up going with the KS-50 as I liked the options for customizing the pack.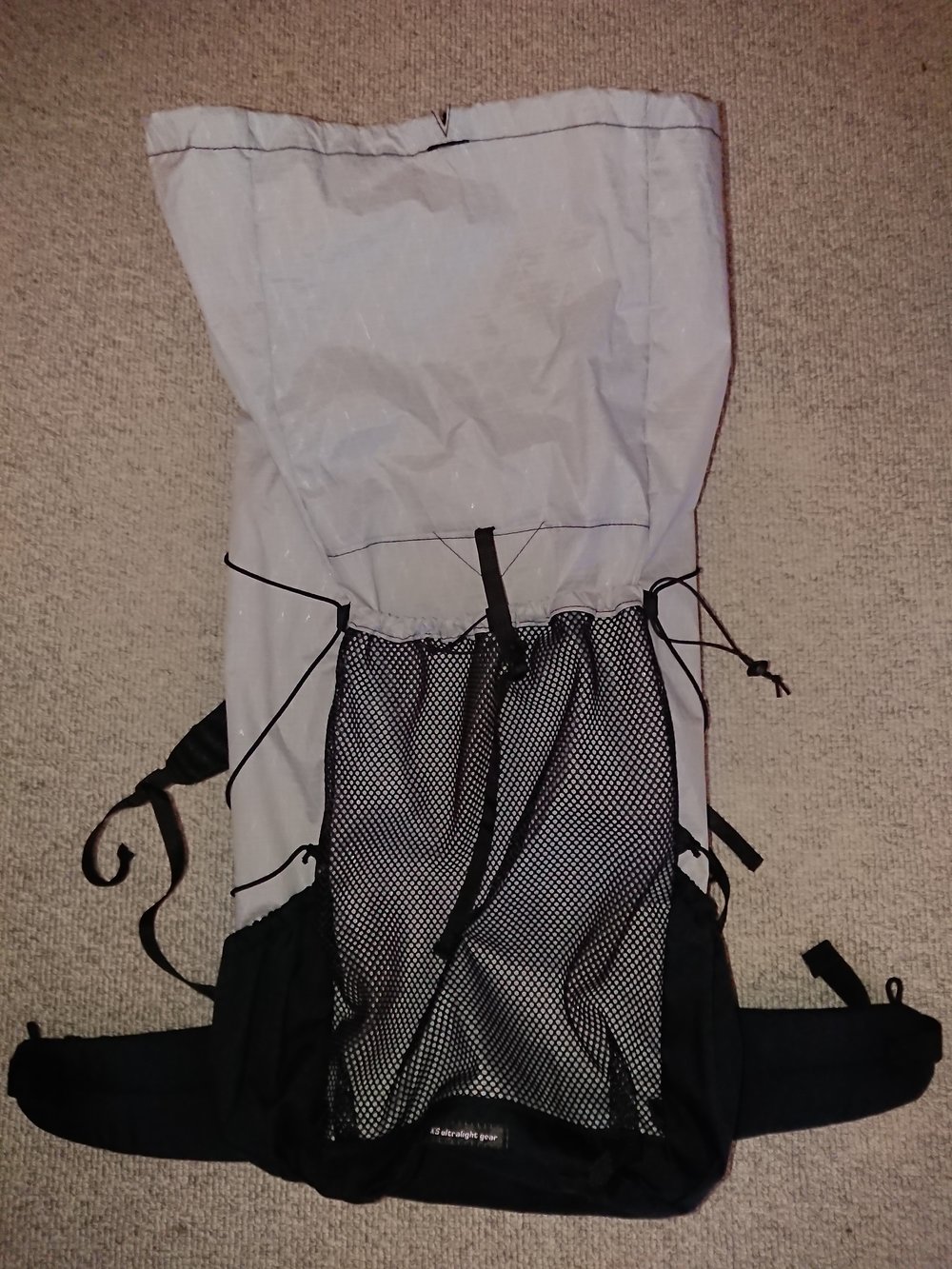 Shelter and sleeping system
Upon reaching camp after a hard days hiking it is essential to have a good shelter and sleeping system that will keep me safe and comfortable and allow me to recover my strength for the next days hiking.
In researching potential shelters the first and most obvious decision is whether to use a tent or a tarp shelter. Previously on the GR20 in Corsica and on the Great Ocean Walk in Australia I have used my Tarptent Rainbow tent. I have been very satisfied with the tents performance but it is not exactly lightweight. The main advantages of a tent is obviously that you are fully enclosed and that using a tent requires somewhat less skill while the main disadvantages are the greater weight and reduced flexibility.
From reading about past hikers experiences with the PCT, it is a very dry trail where a shelter is rarely necessary. Because of this I decided to go with a tarp as my shelter, in particular I decided to go with ZPacks 7' x 9' Rectangular Tarp. The tarp is extremely lightweight and being a rectangular tarp enables a lot of different tarp pitches for varying conditions. A tarp generally requires a lot more skill to use effectively than a tent, I do have some experience with tarp camping so I will hopefully be able to get by. I have pre-attached guylines to the tie-out points and will be bringing 8 stakes along.
For some light shelter while not using the tarp and bug protection I have decided to bring a light bivy, in particular the Enlightened Equipment Recon. This particular bivy is lightweight while providing full bug protection and limited splash protection.
To separate myself and the bivy from the ground I will use a lightweight groundsheet. I will start out with the Gossamer Gear Polycryo Ground Cloth, if that wears out I will switch to whatever groundsheet I can acquire in town.
For insulation from the ground I initially struggled with the decision of whether to use an intake inflatable sleeping pad or a closed cell foam one. I have use both in the past and honestly in must categories it seems to come out in favor of an inflatable pad especially with regards to comfort and packed size. In the end I decided to go with a closed cell foam pad, a Therm-A-Rest Z Lite Sol cut down to torso length (8 sections). I chose this to be able to use it for breaks during the day without having to inflate and worry about punctures.
Last but in no way least, the choice of sleeping bag, or in my case quilt. For this I decided to go with a Enlightened Equipment Enigma 20 degree quilt. I decided to go with a quilt as in my admitted limited experience they are way better to sleep in if you move around a bit. The particular quilt was chosen based on reviews and the possible options. My quilt is a long one, regular width and uses 950 fill power down.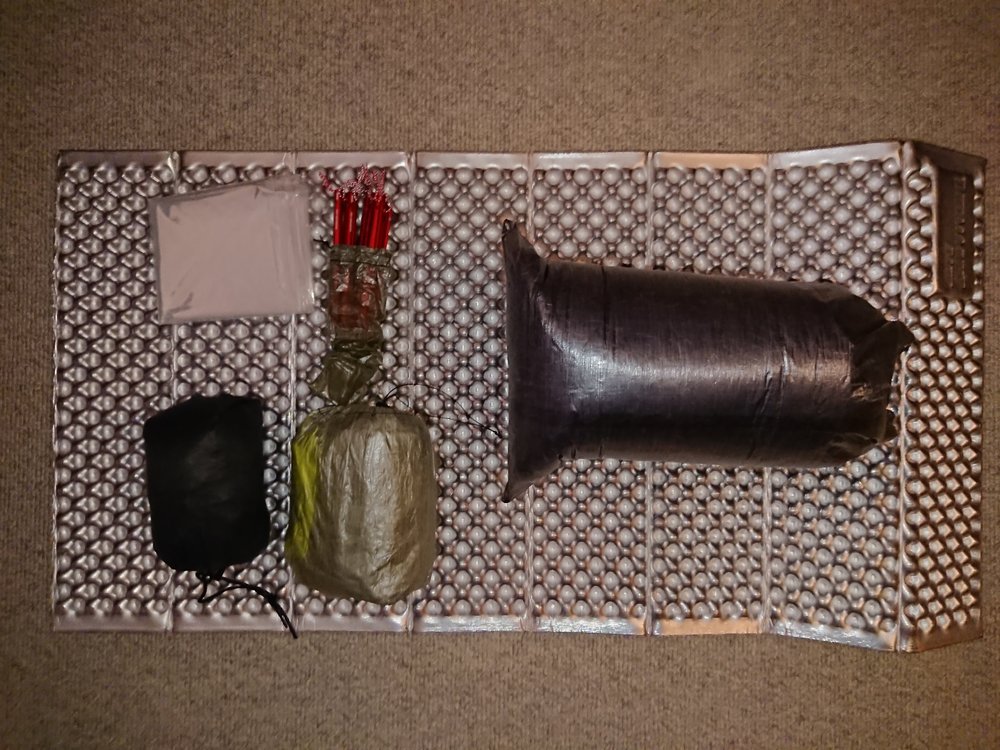 What I will be wearing
From my hiking experience I almost never get cold while I am actively hiking. For this reason the clothing I will be wearing is based on being cool, comfortable and provide some form of sun protection. All of these items are stuff I will be wearing most of the time if not all the time while hiking.
My first layer of sun protection is my wide-brimmed hat, Columbia Bora Bora II which I have previously used on other hikes. I really enjoy hiking with such a hat for the sun protection and for keeping any rain off my face.
Next is my shirt, an Outdoor Research Astroman, which is a long sleeved shirt. I have actually not used long sleeved shirts much in the past while hiking but chose one for the PCT especially for the sun in the desert.
For shorts I will be wearing Patagonia Strider Pro 5", which is an extremely popular choice with thru-hikers. I have used similar shorts on previous hikes and liked them a lot. Unlike other similar running shorts these particular shorts have numerous pockets, which will allow me to carry more things easily accessible. These shorts have a lining so I do not expect to wear additional underwear while hiking.
One of the very most important pieces of gear when doing any hiking and in particular thru-hiking is the footwear. I will be wearing trail runners, I have used a number of different trail runners on my previous hikes with great success. On the PCT I will be using the Altra Lone Peak 3.5. I have already used these shoes on a number of my training hikes to great effect. These shoes are among the most popular footwear among thru-hikers on the PCT and other long distance trails.
For socks I will be using another thru-hiker favorite, Darn Tough socks, in particular Darn Tough Hiker 1/4 Cushion. Based on my and other hikers experiences with these socks I expect them to be the perfect choice for the PCT.
To keep stuff out of my shoes I will be wearing Dirty Girl Gaiters, which are very simple lightweight gaiters.
Initially when I started hiking I was not sold on the idea of hiking poles. I have done a few hikes with and without hiking poles and have been completely sold on the idea of hiking poles. Especially in difficult terrain with a lot of elevation change I find that hiking poles make the going a lot easier. I use Black Diamond Alpine Carbon Cork poles with the straps cut off. I have used these poles on numerous hikes without any issues.
I my regular life I have always worn a watch and so I will do on my hike. I will be using my regular Casio Pro Trek PRW-3100. It is a solar powered watch that has an altimeter, barometer and a compass. I like having an altimeter while hiking as it makes my progress while climbing or descending clearly visible.
Sadly my vision is not perfect so I require some kind of prescription. Before the hike I tried on some day/night contact lenses since I use contact lenses normally. However I decided against using contact lenses on the trail as the lack of hygiene on trail makes use of contact lenses difficult on a thru-hike. I decided to go with glasses and got myself some glasses with transition lenses which means I should be able to use them as both sunglasses and regular glasses.
Lastly something new I have not used on previous hikes. I plan to use a fanny pack for my thru-hike, the Thru UL Bum. I expect it will function somewhat like an oversized hipbelt pocket with the added benefit of bring able to be worn separately.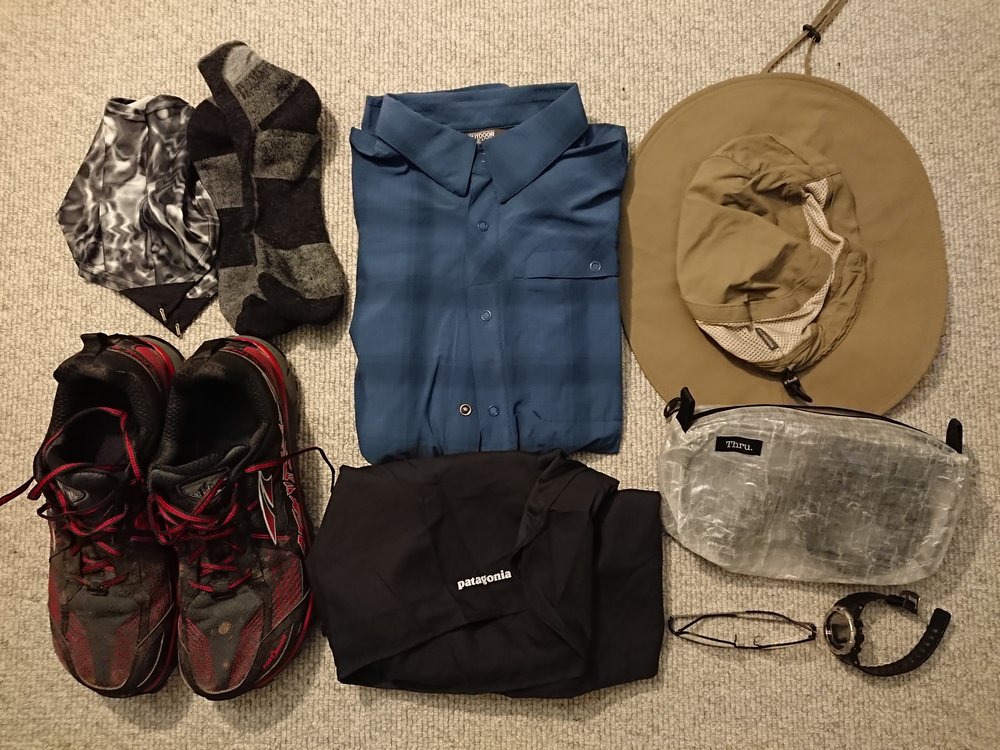 Packed clothing
While I generally do not get cold while actively hiking I have a tendency to get quite cold while inactive. Therefore I have tried to pack clothing that will provide the necessary warmth to keep me warm during breaks or when I am done hiking for the day. Further more some of these items will occasionally be used while hiking during certain conditions. In addition to the items listed below I plan to carry an additional pair of hiking socks.
One of the best items of clothing to keep warm while inactive is an insulated jacket. Insulated jackets come with two kinds of insulation: down or synthetic. Down is generally warmer, lighter and more compactable but does not retain thermal insulating properties while wet, synthetic insulation on the other hand usually still retain some thermal insulating properties while wet but tend to be somewhat heavier and not as compactable. Since the PCT is normally quite a dry trail I will be using a Mountain Hardwear Ghost Whisperer hooded down jacket. I do not expect to use the jacket while hiking at all since that would quickly cause me to overheat and wet out all my layers with sweat.
I generally have cold hands so I will be bringing a pair of RAB Power Stretch Pro Gloves along. These gloves are very lightweight fleece gloves which means they will still be somewhat warm while wet.
Even though the PCT is generally dry I plan to bring a Outdoor Research Helium II with me for the entire trail. I obviously intend to use this for rain but also for very windy conditions where my normal hiking shirt is not sufficient.
A quilt which I am using in place of sleeping bag does not have a hood to keep my head warm while sleeping, so I will be bringing a light fleece beanie, the Buff Polar Hat.
I am not entirely sure how troublesome mosquitoes are on the PCT so I will bring my trusty Sea to Summit Nano headnet.
For underwear while sleeping I will be bringing some Exofficio Sport Mesh Boxer Brief.
One piece of gear that I initially did not intend to bring was a buff. However after reading about other hikers gear choices and looking at my regular use of my buffs I decided I would rather not be without one. I will be bringing a High UV Protection Buff, which I intend to purchase in the US.
For some extra thermal protection I will be bringing a base layer, a set of Craft Seamless Zone, which are fairly lightweight. This is probably one of the items are have been most conflicted about whether or not to bring. For now I have decided to start out with them, if I end up not needing them I can always drop them in my bounce bucket/box.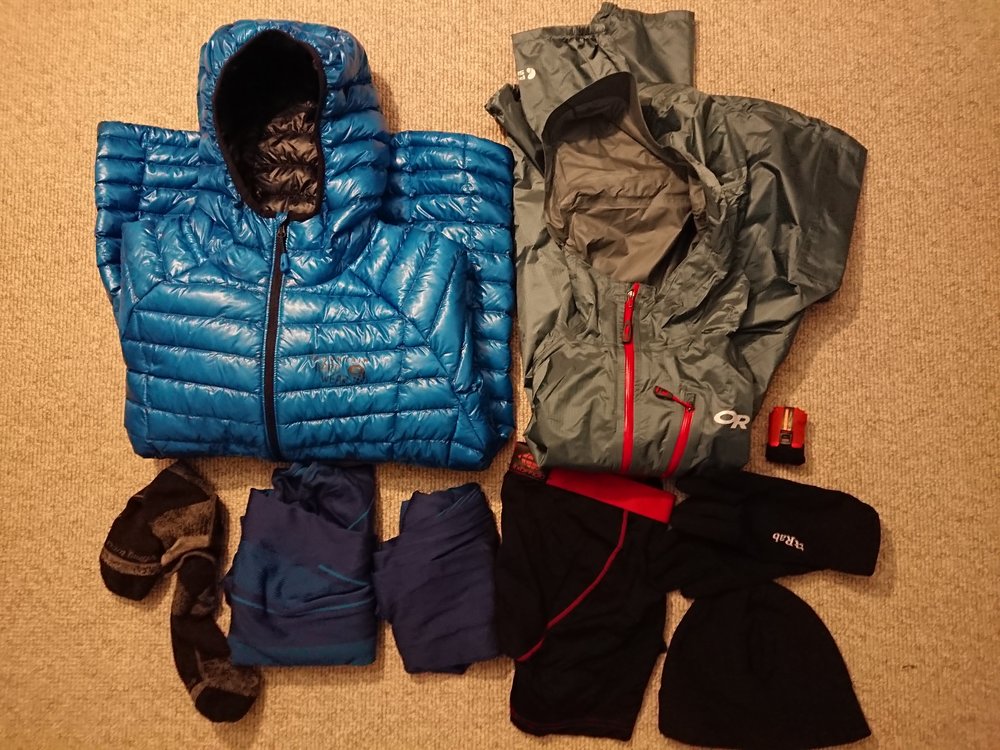 Cooking and water
For cooking I am going with a very simple setup because I do not intend to bring a stove to cook hot food. Instead I plan to mostly not cook much and what I will do of cooking will be limited to cold soaking certain foods in a jar. I have only tried cold soaking food on one hike before the PCT but I actually enjoyed the cold soaked food more than I would have thought. My cooking consists of a jar for cold soaking and a spork, I will obviously also be bringing a knife of some kind.
To carry my food I will be utilizing a LOKSAK OPSAK bag in the areas where a bear can is not required.
For water on the trail I will be using a Sawyer Squeeze to purify my water, I will be using a Cnoc Vecto 2L water bladder for dirty water and to squeeze water through the filter. As drinking bottles I will be using a number of Smartwater 1L bottles. For additional clean water capacity I will use an Evernew 2L water bladder.
Toiletries
My toiletries setup is kept fairly minimal. I will be bringing a lightweight bamboo childrens toothbrush and a small tube of toothpaste. Furthermore I will carry some dental floss which will obviously be used for flossing but can also be used as thread for sewing clothes.
For going to the toilet in the wild I will be using a Deuce of Spades to bury my poop, of course I will also be bringing a small amount of toilet paper along depending on the length of stretch.
For sun protection I will be carry a travel sized sunscreen tube. Additionally I will bring some lip balm with sun protection as well.
I will bring a mini first aid kit consisting of: Imodium, Ibuprofen, Pepto Bismol, and some Medical tape.
Electronics
For my electronics I was not entirely sure what to bring but in the end I decided to bring very few electronics.
Mainly I will be bringing my smartphone, a Sony Xperia XZ1 Compact. It is a very compact smartphone that is still very capable, the camera is decent but not the best. I will load the phone with music, ebooks and audiobooks for entertainment. Furthermore I will be using some hiking apps like Guthook, Hikerbot, Halfmile's PCT, and OsmAnd+ further away from the PCT. In case I want to listen to music or audiobooks I will bring some cheap headphones.
To power the phone I will be bringing an Anker Powercore II 10000 mAh battery. I will charge the battery with an Anker charger that I will purchase in the US to get the right plugs. I will obviously also bring the necessary charging cables.
For lighting I will bring a headlamp, the Black Diamon Spot. The headlamp is very popular and in my use I have found it to work really well.
I considered taking along my Kindle as well as enjoy reading. However I decided against it upon reading how most other thru-hikes end up sending it home. Instead I will be using the Kindle app on my smartphone.
One of the items I have been most conflicted about is whether or not to bring a camera in addition to my smartphone. I have done some comparison images between my smartphone and my Sony NEX-5T, in good light they are fairly similar while in poor light the camera easily beats the smartphone. I am just not sure it is worth the extra hassle and weight. For now I have decided not to bring a separate camera, of I were to bring one of my choice it would be the Sony RX100 V.
Miscellaneous
Besides the stuff listed in the above categories I will also be bringing some stuff that does not fit in to any of the above categories.
As a foreign hiker it is actually a requirement that I carry my passport for identification. So I will be carrying my passport the entire. For extra identification and in case I would need to rent a car I will bring along my Driver's License as well.
I will also have to carry all my permits:
Long distance permit
California fire permit
Canada entry permit
For payment along the trail I mostly plan to use credit cards but will obviously also carry some cash.
Navigation on trail should be fairly simple as far as I have researched, nonetheless I will be bringing some paper maps for reference. The maps I will be bringing are the Halfmile's PCT Maps. I will only be carrying the maps I need for the particular section, the rest will be in my bounce box/bucket. I will also have apps on my smartphone that can use the GPS to help me navigate.
For making repairs on the trail I will have some duct tape wrapped around my hiking poles. Duct tape can repair almost everything so that is why I just have to bring some.
For writing in trail registers I will bring a pen. For writing notes for hitchhiking I will bring a Sharpie.
Sierra gear
In the Sierra the PCT normally changes quite a bit with more difficult terrain, more snow and water crossings. This normally means that some extra gear is required, this season however is a very low snow year so this hear might not be necessary.
An ice axe is normally brought along in the Sierra. An ice axe helps crossing steep and difficult snowy sections. Also should I fall it can be used to self arrest. If I need an ice axe I will get a Camp Corsa sent to Kennedy Meadows.
For traction on icy patches or hard packed snow microspikes are brilliant. Like the ice axe I will pickup a pair of Kahtoola Microspikes in Kennedy Meadows if necessary.
One thing I will be bringing regardless of the snow level is a bear canister. A bear canister is required in certain sections of the Sierra. I plan to pickup a bear canister in Kennedy Meadows. I will purchase this in Kennedy Meadows or order it for delivery to Kennedy Meadows.
Bounce box/bucket
To send along some stuff I will not need currently but might need further down the trail I plan to utilize a bounce box. A bounce box is a box or bucket that is mailed from Post Office to Post Office on the trail. As long as Priority mail is used it can be send ahead to the next post office for free if it is unopened.
What I have in my bounce box will vary along the trail but I will definitely have maps for future sections.
The bounce box will be used to bounce ahead extras of different consumables and items. Furthermore I will probably send bounce ahead some of the following stuff depending on conditions:
Waterproof gloves
Rain kilt