Today we passed Selden Pass which is usually a fairly easy pass, however today was anything but usual. Today was one of those days I do not want to have many of on the PCT.
During the night and in the morning I awoke to the sad sound of rain hitting my tarp. So far on the PCT I have not had to hike in real rain for more than a few minutes and was kinda hoping it would stay like that. I packed up everything but the tarp while under the tarp and donned my rain gear. After packing up the tarp and eating breakfast I was ready to leave at 0600 which has become our customary pass starting time.
We had a lot of climbing to do and hiked while trying our best to ignore the rain. Obviously we both hoped the precipitation would be temporary. The rain became easier to ignore once we had climbed a bit and it turned to snow. The snow seemed to steadily increase in strength and not let up. We quickly saw at least 2 cm of fresh snow on the ground.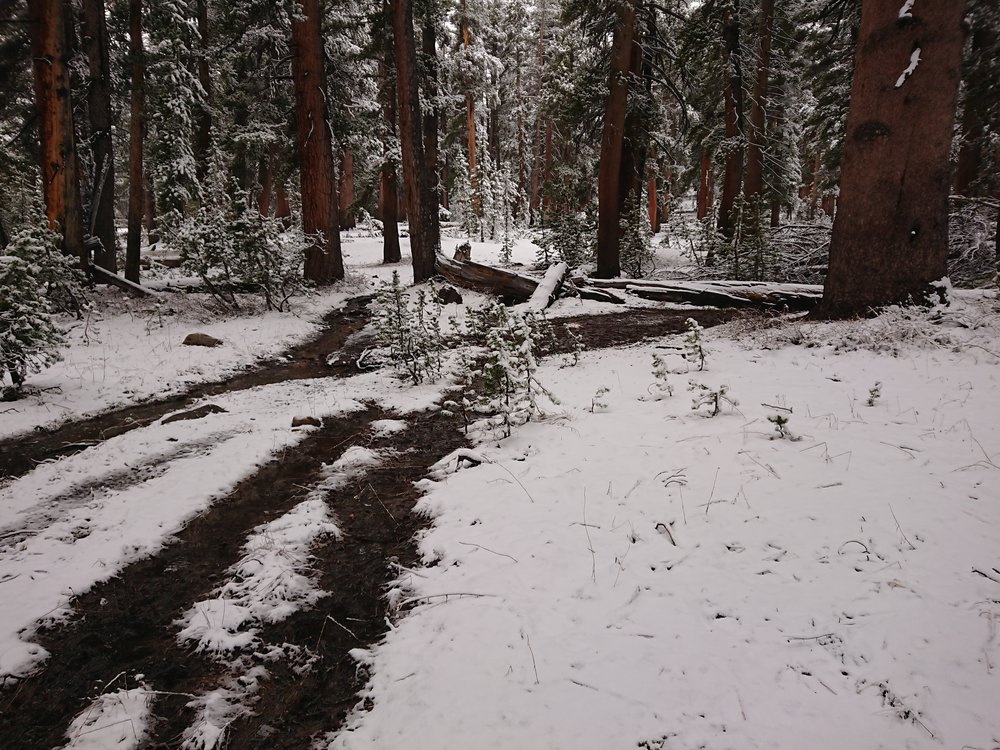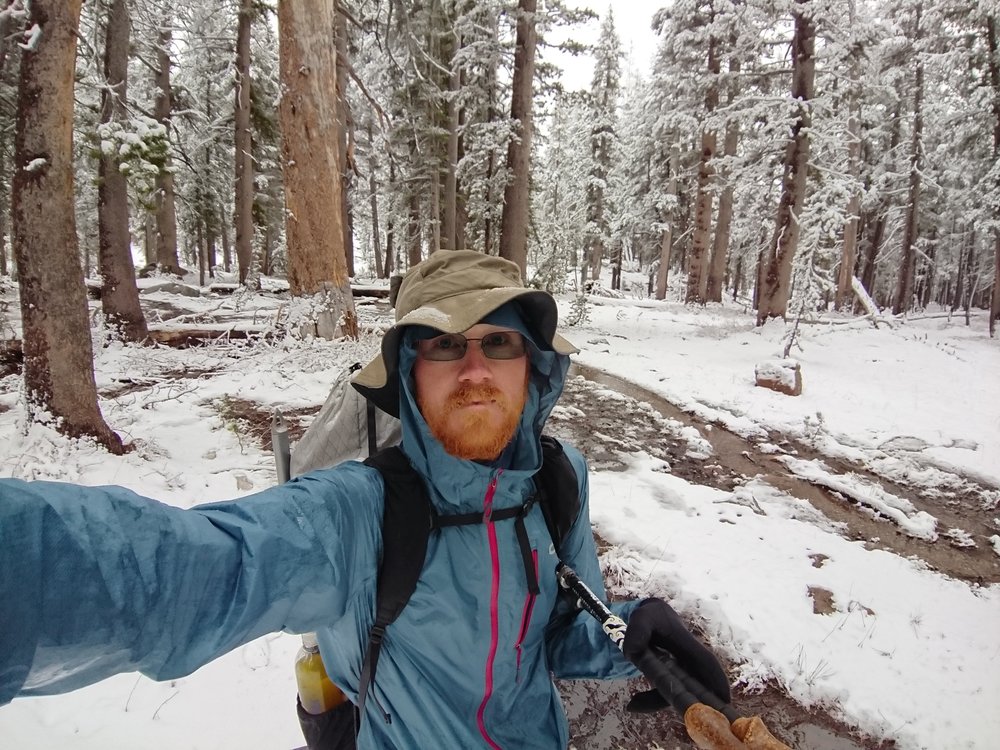 The fresh snow did cause some navigational issues as tracks were hard to locate. We were also so lucky to have to cross some nice icy streams early in the day, I do not think we had dry shoes for more than 15 minutes the entire day.
Once we exited the forest the navigation became easier as we could locate landmarks and steer towards these. Eventually we even found some old faint footprints to follow.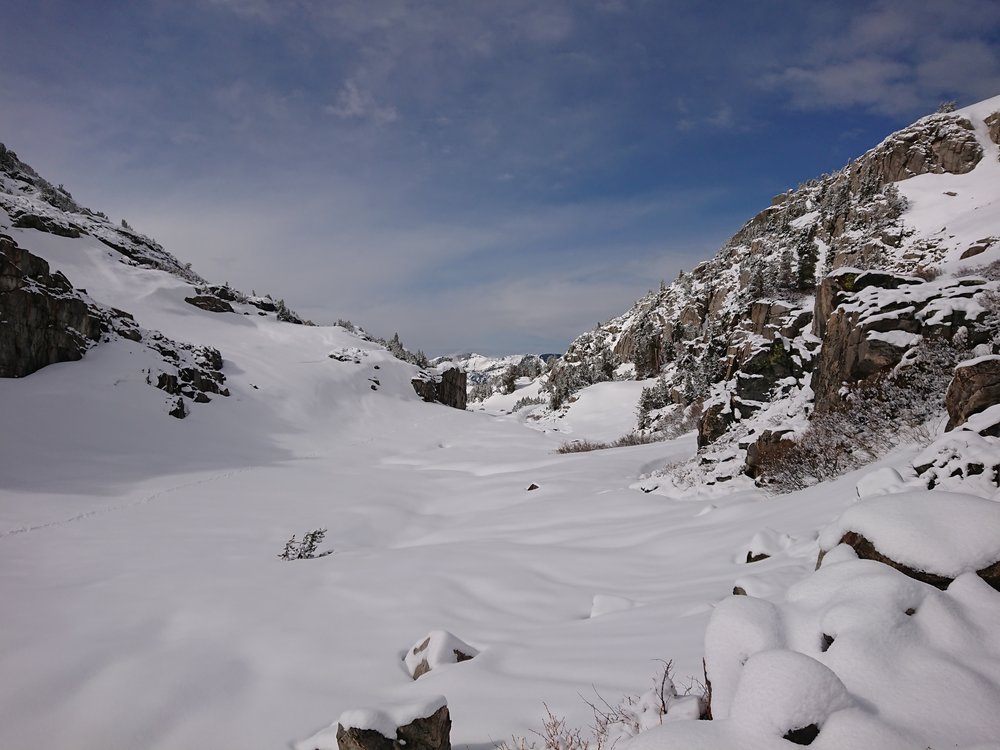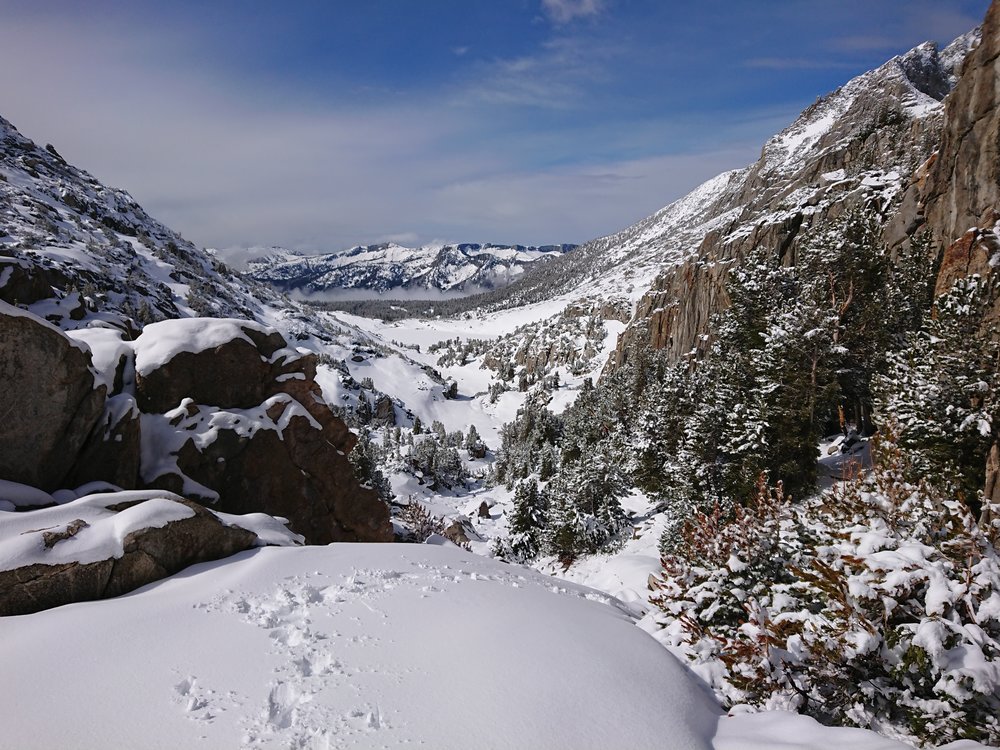 As we approached the pass there were probably 10 cm of fresh snow that we had to walk through. Following us would have been easy as we made very clear tracks in the snow.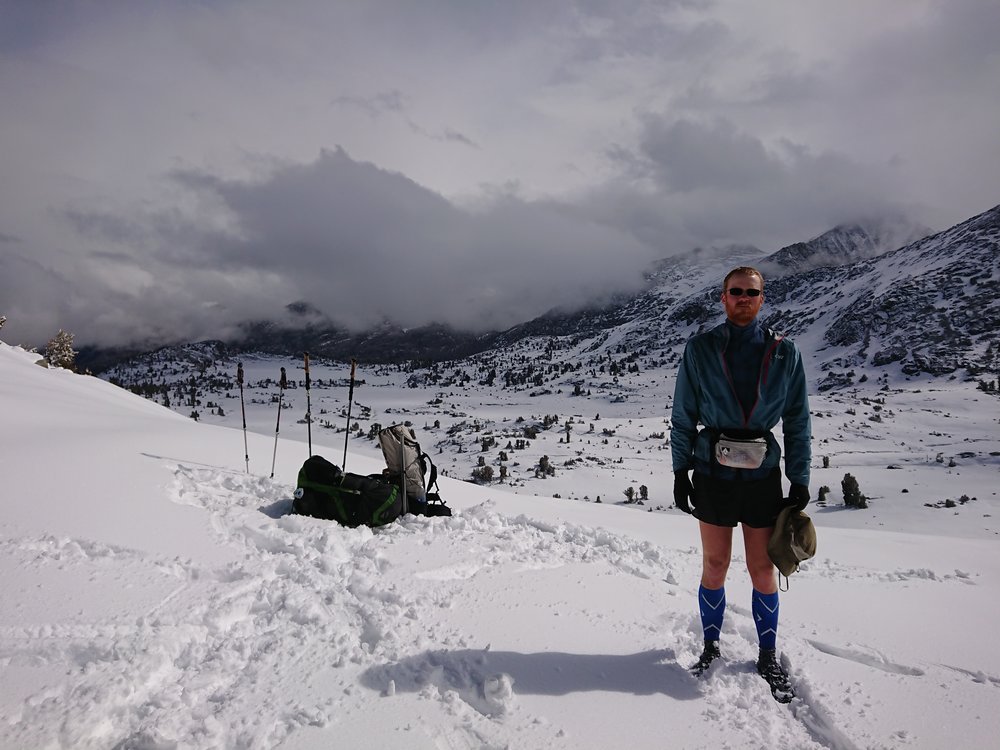 Once on the pass we had clear weather and took the usual pictures. Avocado also made a small snowman.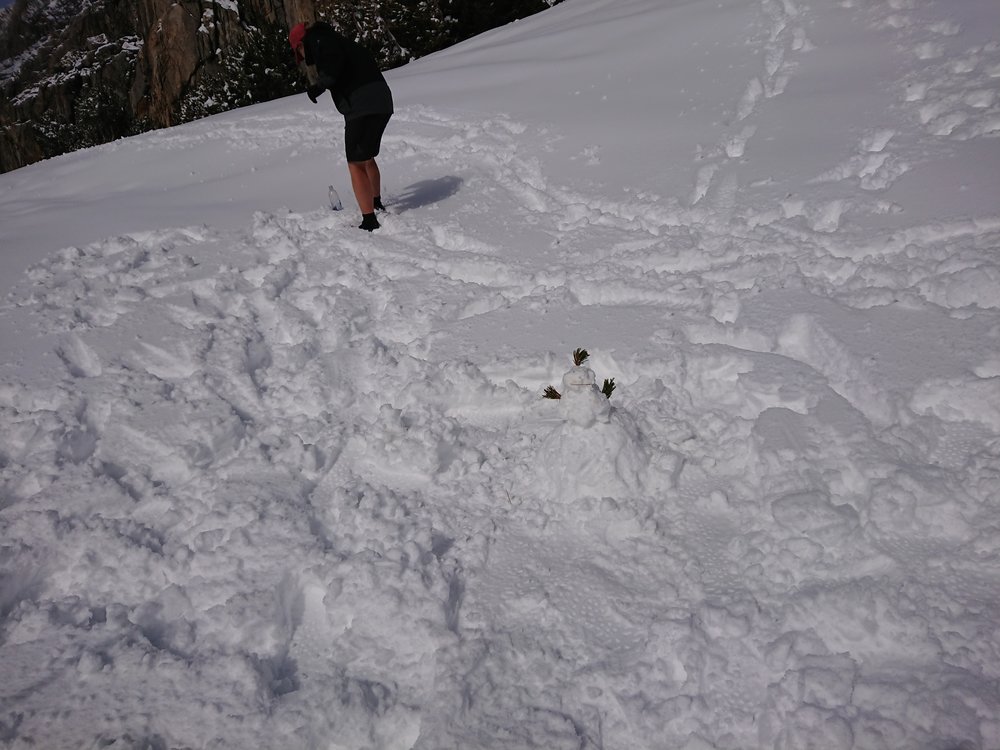 We could see bad weather on the horizon and began our descent. Initially the descent was very easy but once we had descended a bit we started post holing and navigation became more troublesome. Avocado got some cuts on the shins from post holing in the icy snow.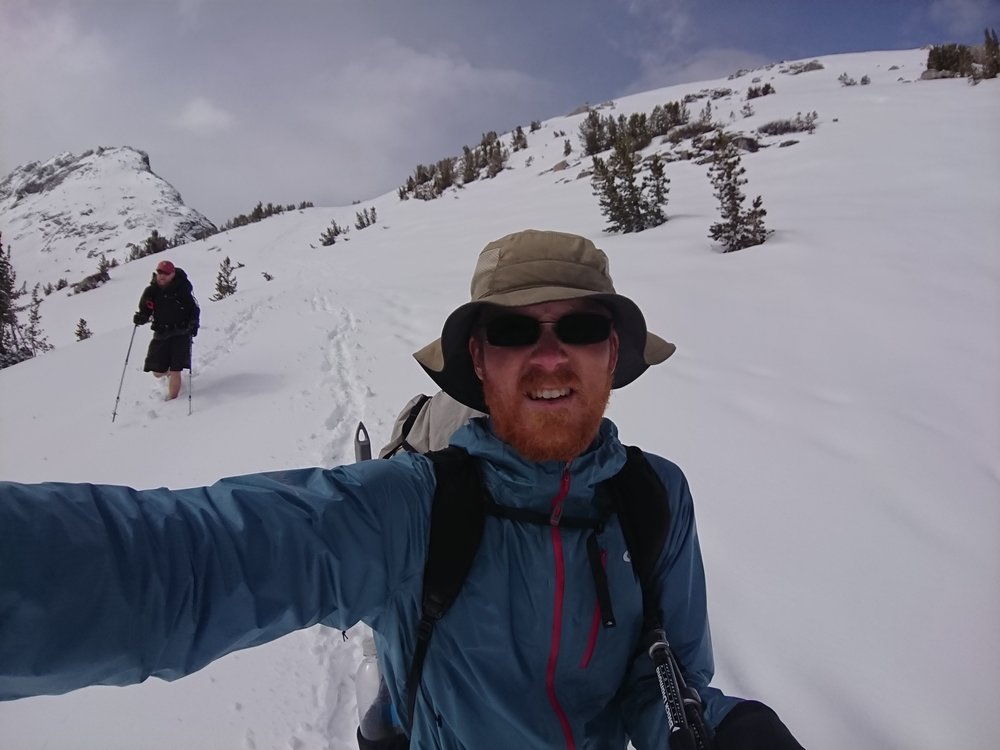 Eventually we started seeing more and more trail. Almost immediately as the trail became easier to follow we had the most serious crossing of the day, the crossing of Bear Creek. This crossing can be very hard and sadly last year a hiker lost her life on the crossing. We both crossed Bear Creek and the many other crossings this day without issue.
Once we had descended to around 9000 ft we had a midday climb that we would have to descend from again. The climb was almost to 10000 ft and proved challenging enough. Descending from it was very challenging as we had to cross a lot of snow at an angle. The snow was very slippery so we had to move very carefully and slowly.
Once we reached our originally planned camp we both agreed to move on to make the climb to the next pass, Silver Pass, easier. We arrived around 1715, setup camp, had dinner and went to our tent/tarp.
The entire day we had maybe 1 hour of sunshine the rest was either rain, hail or snow. This was pretty mentally exhausting to walk in. This was however the first time I really got to test all of my rain gear. The rain jacket as expected worked really well, which I expected since it is very popular. My rain kilt was amazing in keeping my shorts dry and providing some nice warmth without causing me to sweat. My waterproof mitts worked nicely in conjunction with my gloves to keep my hands warm.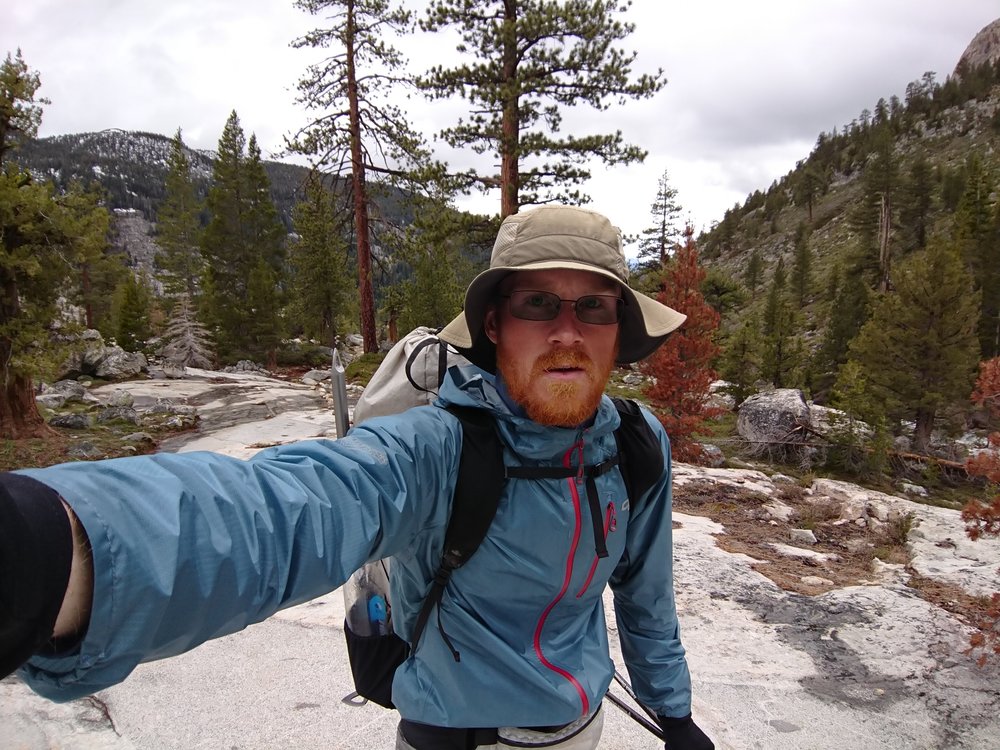 As said earlier I do not wish to have many more of these days in the PCT. Hiking in rain is never fun but I think the amount of precipitation we had today is very uncommon for May in the Sierra. Hopefully the weather improves tomorrow.
The day after tomorrow we should be in Mammoth Lakes and I am looking forward to town amenities a lot, especially after today.
As I lie in my sleeping quilt and write this it continues to rain on and off.
2907