Today we passed Muir Pass and we had read that there usually is a lot of snow before and after the pass because the climb and ascent is gentle. So we were hoping for good snow and were both anxious to get past the snow.
During the night and in the morning we had felt cold temperatures that seemed like freezing. We were happy with this as we needed the snow to be frozen until about noon when we expected to be off the snow.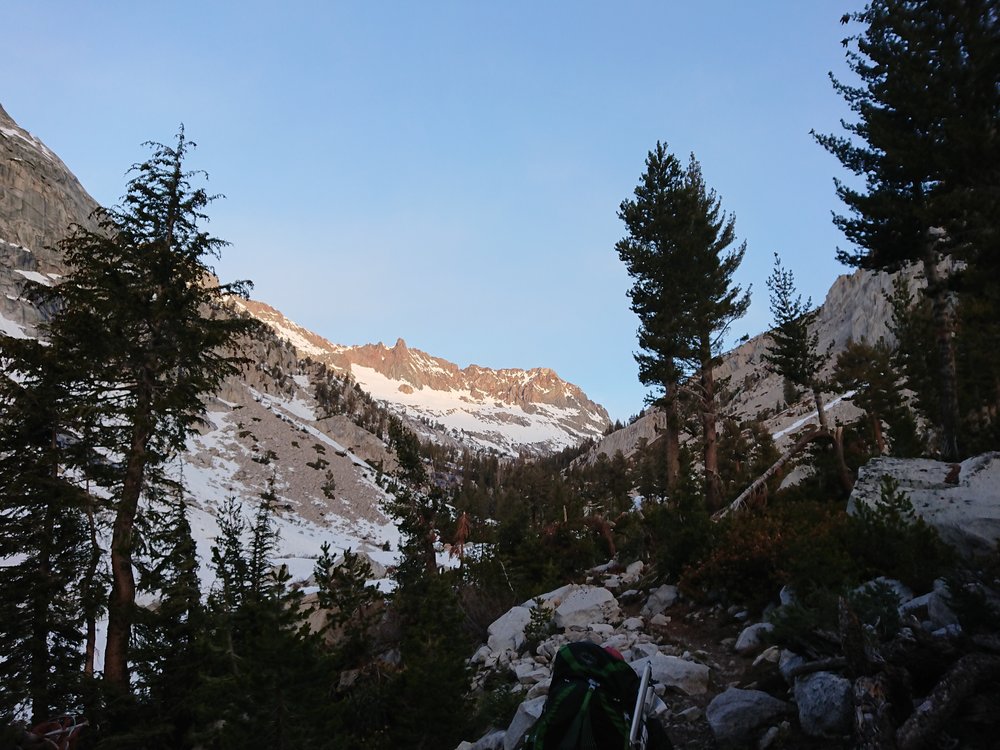 As usual we started hiking at 0600 and to our delight discovered that the snow was indeed good. The climb was much steeper than expected but we made really good time.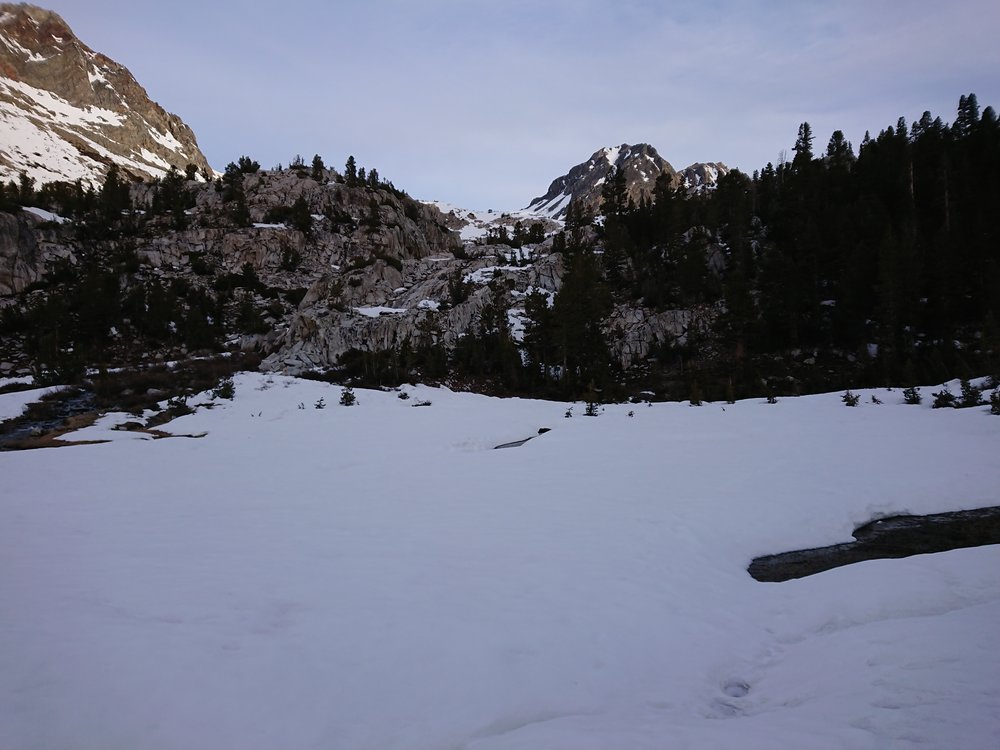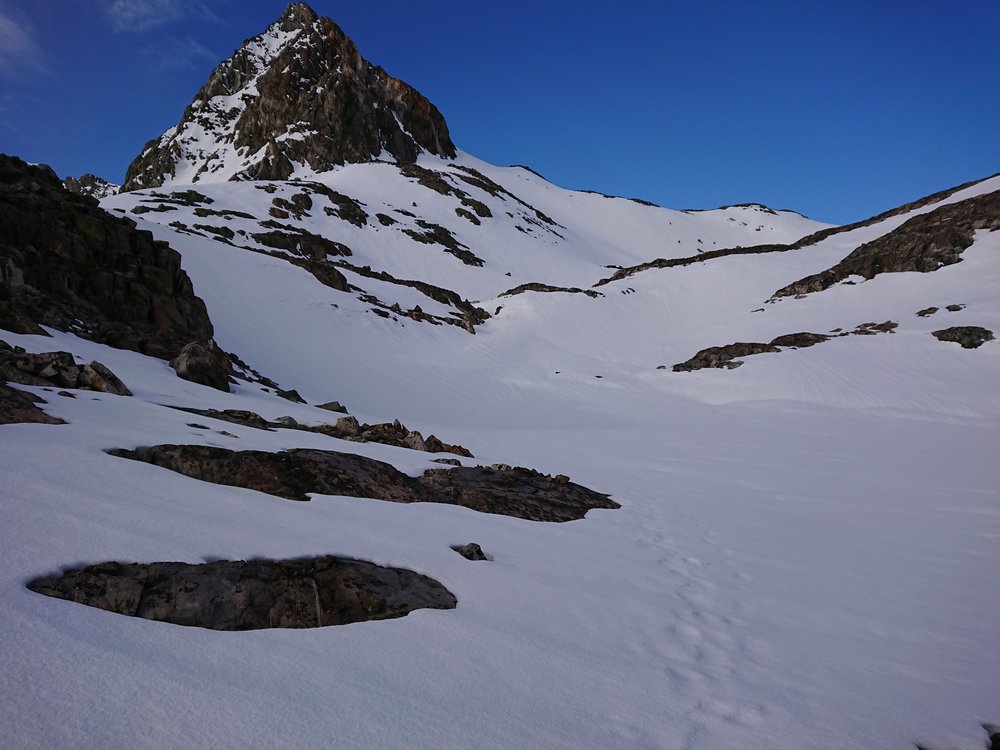 When we started hitting real snow we did not have to slow down much except a few times for navigation. We met another hiker on the way to the pass, none of us had seen her before which is strange in this area.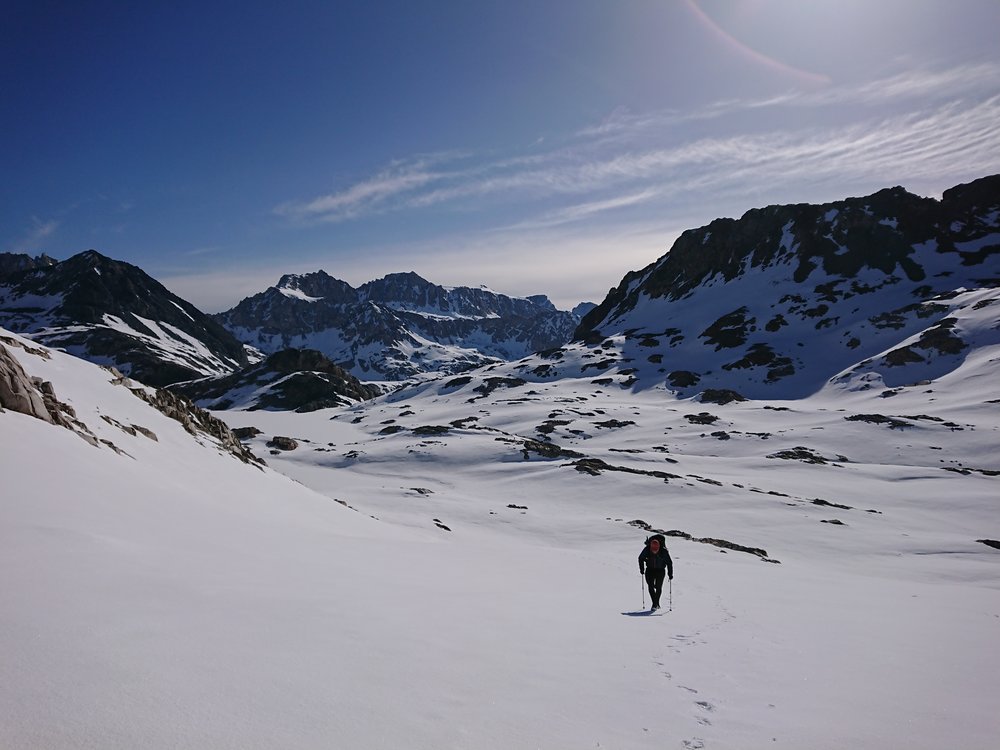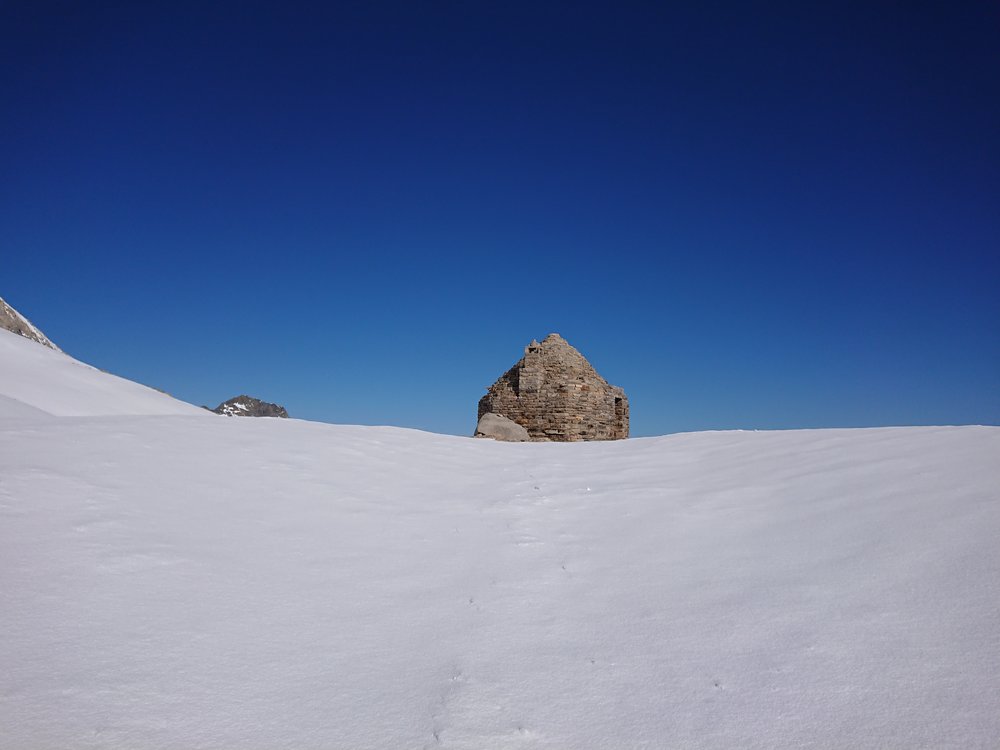 The climbing continued for quite a while as Muir Pass is the last pass near 12000 ft of elevation. We reached the top of the pass around 0830 and were amazed by the nice looking stone shelter. We quickly took our pictures and a snack break. Avocado was keen to get moving again to make it off the snow on the other side of the pass.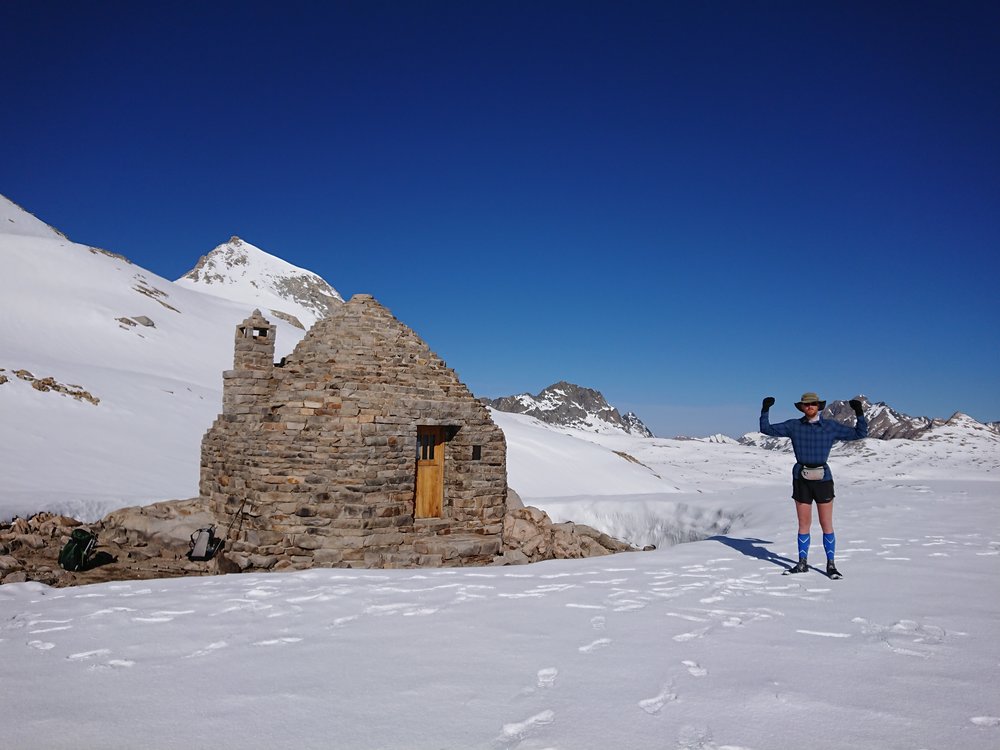 We started our descent which was very gentle for about 6 miles. The views on the descent were amazing of big frozen lakes and snow covered mountains.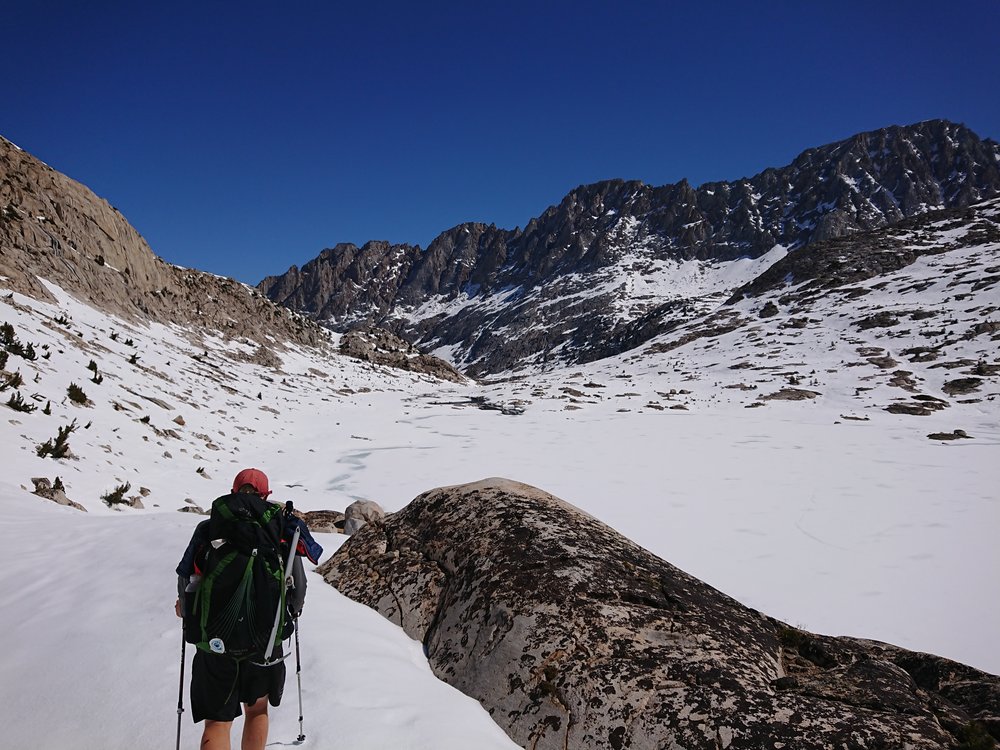 Navigation was generally easy except for one mistake where we almost took a bit of a detour. Later in the descent the snow got a bit worse but we never post holed a lot. This was quite the change from yesterday so we were both happy.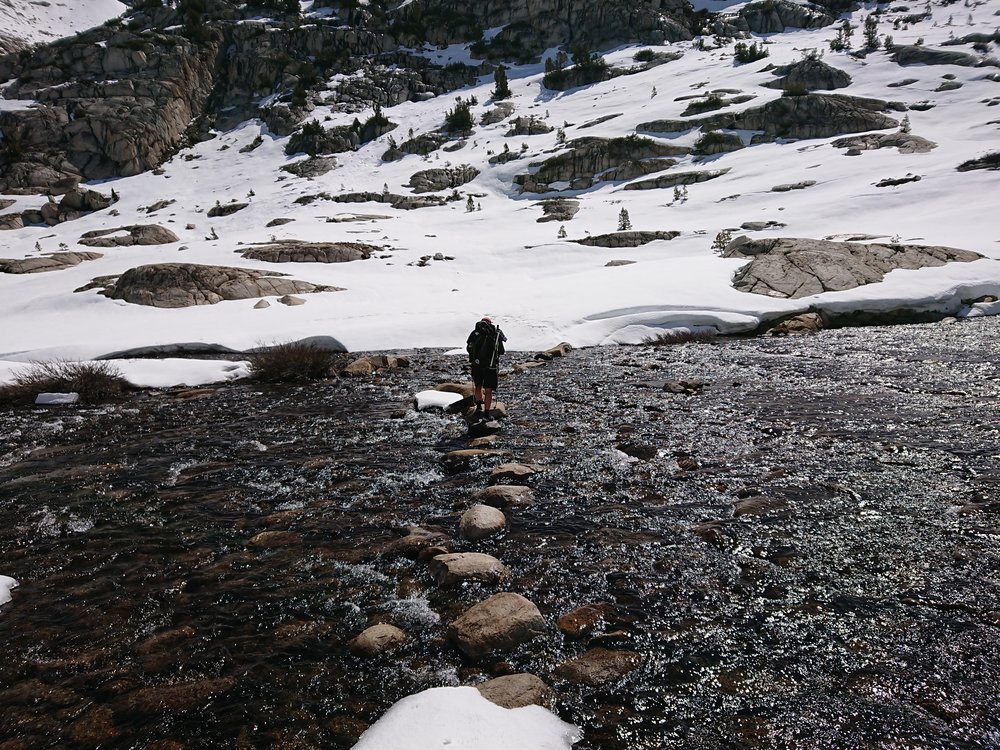 A bit before noon we found a nice meadow where we had lunch and dried some of our stuff. We had expected Seeker and Heidi to catch up to us but they did not and sadly neither did Sensei.
After lunch I packed everything watertight as we would be crossing Evolution Creek which is sometimes considered the most difficult crossing. There is a alternate place to cross but we both wanted to see if we could cross in the normal location.
Evolution Creek was near the trail for a long time and sounded and looked very intimidating. Once we reached the the normal crossing it looked quite easy. I went first and found the current strong but the crossing easy as the water did not go above my knees.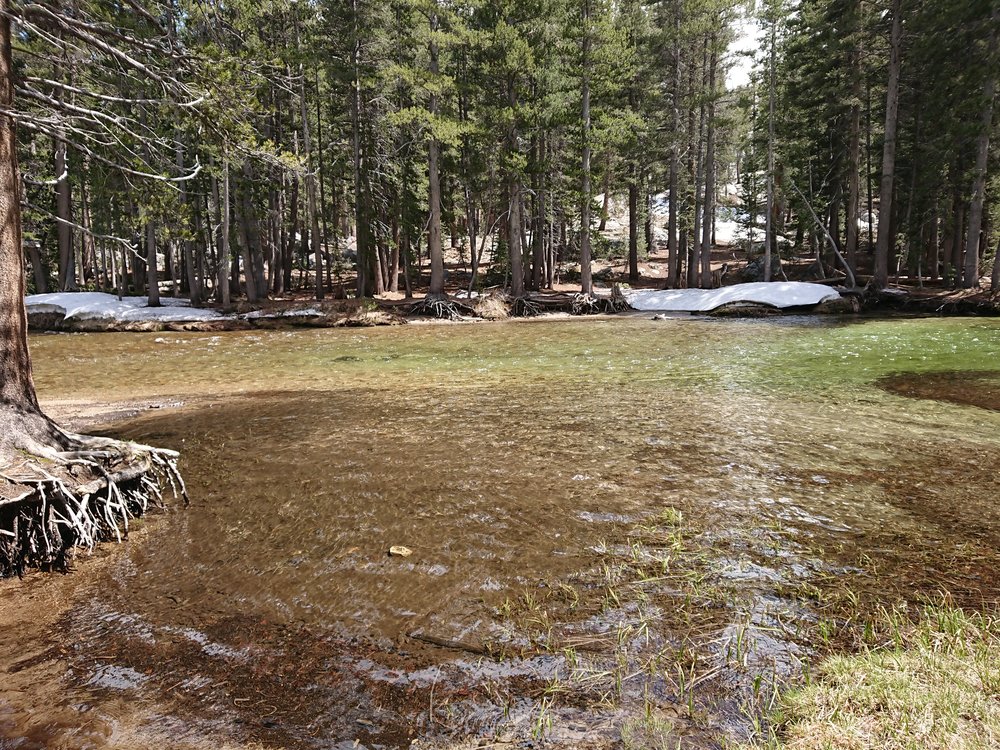 We reached our original planned camp quite early and both agreed it would be good to move on as it would bring us closer to the top of Selden Pass which is quite far away and had a steep climb preceding it. We ended up hiking for another 3 miles and 400 ft of elevation gain which should make tomorrow easier. We still have 6.4 miles and 2790 ft to the top of the pass so we will have to work for it.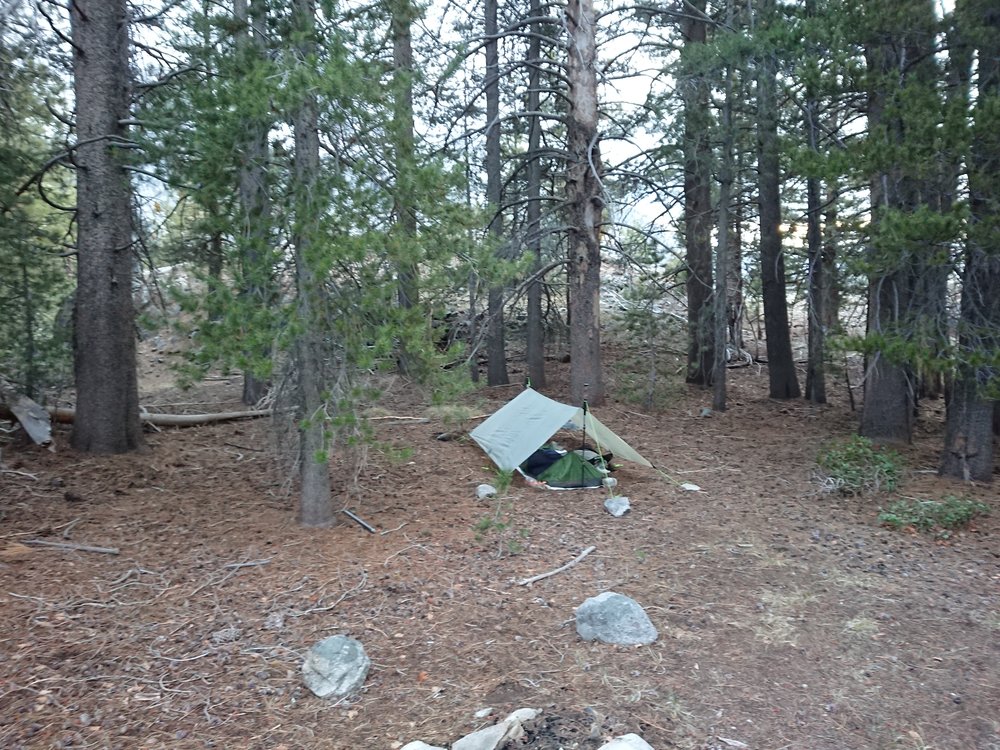 Today I stayed behind Avocado and let him set the pace. This seemed to work well and we stayed close the entire day which was an impressive 25.62 miles which is quite a lot in the Sierra, especially considering we had 3521 ft of elevation gain and 4708 ft of elevation loss.
If the snow is not too bad tomorrow it should be an easier day as we have a lot less miles to do. We can't really proceed much from our intended camp as that would bring us in to intended snow territory.
Tonight we are sleeping around 8400 ft, this is the lowest elevation I have slept at on trail for about 10 days. This should mean that the night should not be too cold even if it is freezing at the pass.